Regular price
Sale price
£24.00 GBP
Unit price
per
Sale
Sold out
Low stock
The SpeedyBee Adapter 2 is a full-featured BF/INAV/emu configurator that comes with built-in WiFi. SpeedyBee put a WiFi chip in Adapter 2 which greatly improves the transmission speed and makes it possible to upgrade your flight controllers. The whole upgrading process costs only 2-3 minutes. Just go to the field and fly without carrying a heavy laptop.
Note: The firmware flashing currently supports Betaflight/Emuflightvia WiFi connection to the Adapter 2
Power the whole thing with one battery
Soldering work should be done on the user end on the previous generation. But the Adapter 2 now has built-in XT60 and PH2.0 connectors which both support 1-6S LiPo batteries input*. As the Adapter 2 can power your flight controller, you don't need another battery to power your quad.
*For 1S batteries, 3.8V or above is required. Because some(very few) quadcopters may consume a lot of currents, and the output voltage of the adapter 2 will be greatly reduced.
One Adapter 2 for all of your quads!
With one Adapter 2, you could connect to all of your quads running Betaflight or iNav.
Say goodbye to OTG problems
Some Android phones don't support OTG or can't supply sufficient power to your flight controllers... But with Adapter 2, just say goodbye to all these problems.
The lanyard-style cable is easy to store
The liquid silicone cable is with two same micro USB ports on both ends. The connection is tight enough to prevent the cable from being lost. The lanyard-style cable can even easily carry 500 grams.
Connection Tips
'TO FC' stands for 'unplug the USB cable from this end, then plug the cable into your flight controller'.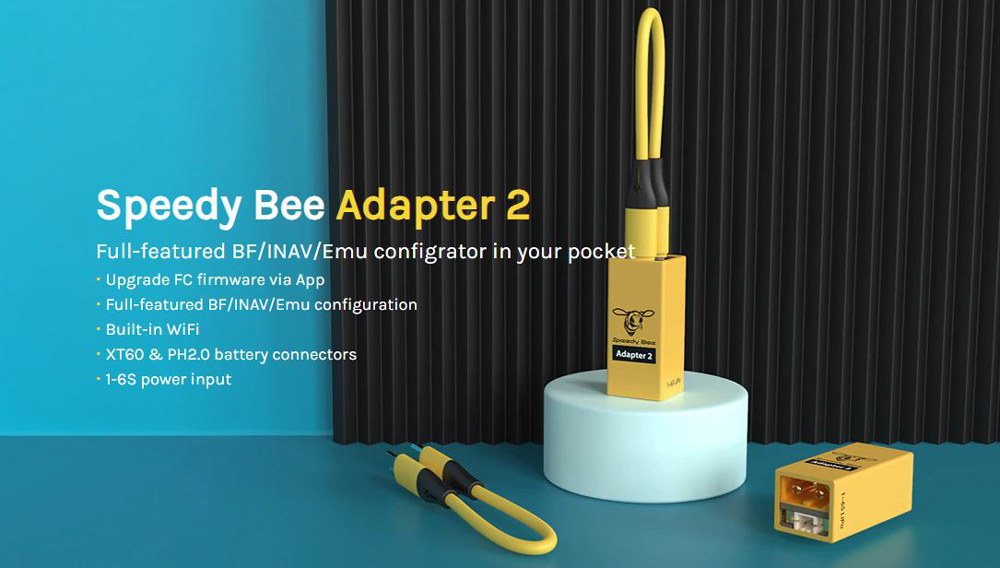 Features
Betaflight configurator in your pocket
Upgrade FC firmware via Speedy Bee App
Full-featured BF/iNav configuration
Power via 1-6S XT60 and PH2.0 Batteries
Built-in WiFi 
Specifications
Power Input Voltage Range: 1-6S(3.8V+ for 1S)
Power Input Interface: XT60-Male, PH2.0 male
Case Material: Heat-shrink Tubing
Liquid Silicone Cable Length: (Pure Wire) 10cm
Net Weight: 21.8g
WiFi Transmission Distance: 3 meters
Standby Working Current: Under 5V 120mA
Maximum Output Current: 200mA @5V
Dimension(Main Body): 18*18.5*42mm
Includes
1 x SpeedyBee Adapter 2 Micro USB w/ WiFi
1 x Manual
Share
View full details